Why you NEED this certificate program?
Health systems globally are experiencing dramatic changes and constant restructuring due to services demand and regulatory forces. PGA is the local partner of this 8-week online course designed by HeSMA and AZV in partnership with Northeastern State University (NSU) have developed a specialized Leadership, Management and Governance (LMG) Program for healthcare professionals. This program is designed to offer practical solutions that not only help participants survive the present healthcare challenges, but enables leaders to thrive in these challenging times. Courses are tailored to reflect applicable circumstances in international markets (locally relevant topics). Courses typically include multi-national participant exchanges in order to share diverse perspectives. As part of the LMG Program, we are offering this course that focuses on practical learning applications essential to develop leadership traits proven by great healthcare leaders. This course is 8-weeks in duration, 100% online program specially developed for physician leaders, healthcare executives, and managers; learning at their own pace and place.
Essential Leadership Traits of Great Healthcare Leaders for the 21st Century
This course explores in detail the critical leadership attributes that are necessary to create organizational collaboration and integrated healthcare initiatives that promote value-based care and cost effective quality.
Key topics in this course include:
Understanding the attributes of great leaders and addresses the question – are they innate or developed?
Exploring the essential traits of great leaders
Examining the value of Talent, Inspiration and Charisma
Reviewing the building blocks of good Communications, Relationships and Trust
Understanding the main elements of Influence vs. Coercion and Respecting Others
Learning how to create a Culture of Excellence
Learning how to identify and survive environmental "game changers"
Measuring Competencies through assessment tools for leaders
End of Module Seminar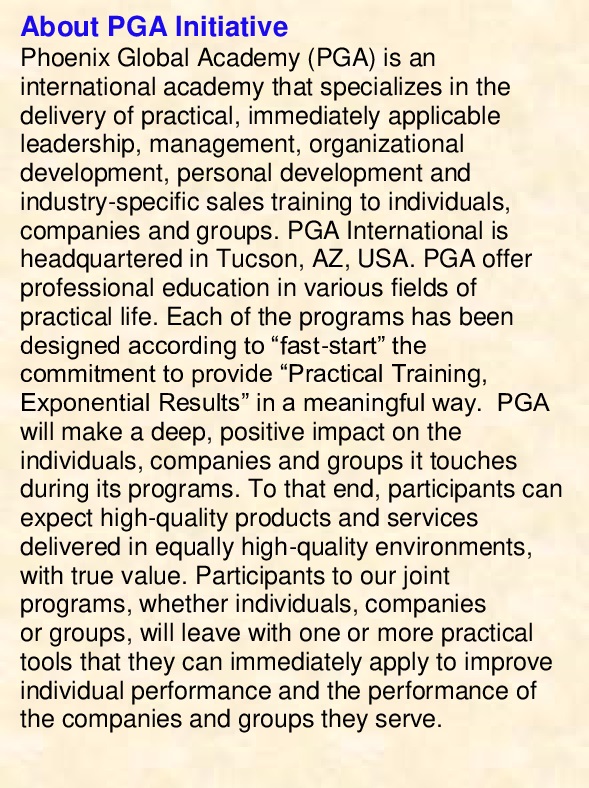 Eligibility criteria:
Diploma in a health related discipline with 2 or more years of work experience
Degree in a health related discipline, medical practice, or management / administration
This advanced e-Learning program starts June 6, and runs through July 29, 2020. The syllabus is available upon request. To enroll and pay for your special affiliate tuition discounted fee, please contact at PGA Secretariat.
Credential:           Leadership, Management and Governance (LMG) Program for healthcare professionals
Length:                  8-Week, 35 Credit Hours
Study Options:   Professional education
Study Mode:         Online
Start:                      Spring 2020 [April-June 2020]
Fees:                      USD $300.00 for members of HeSMA, participants of AZV or another affiliate; USD$400.00 all other participants. The fees include all required learning materials, e-textbook, tuition, CEUs, and taxes
Registration Deadline:  25th March 2020
PGA has affiliated panel of experts from renowned universities and academies in home and abroad. A pool of experts from North Eastern State University (NSU), USA, Dhaka University is the major strength of PGA Initiatives in Bangladesh. All programs under the PGA framework are academically monitored and proctored by Dr. Ed L. Hansen, the PGA Head, Dr. Eloy A. Chavez, EdD, Dean, NSU, Dr. Mark Tozzio, M-IHHS, FACHE, Northeastern State University (NSU), USA, Dr. Delwar Hossain, Professor in Dhaka University, Musharrof Hossain, HR Expert and President of the Asia-Pacific Forum of Human Resource Management (APFHRM) and Shohrab Hossain, Management & HR expert, PGA International Coordinator, Canada.
Certification of the Program
Upon successful course completion, CPD Points will be awarded by the local licensing or certification agency. Participants will receive a Certificate of Completion and 3.0 Continuing Education Units (CEUs) from NSU (USA university partner). The points earned in this course may also apply to the International LMG Certification Program.
LERN International Award Recipient:
December 10, 2015 — Northeastern State University, Department of Continuing Education has been honored for excellence in the Best Programming category by the Learning Resources Network (LERN), the world's largest lifelong learning association. The winning entry was included in a showcase of internationally exemplary programs at the 2015 LERN Annual Conference in New Orleans. Julie Coates, LERN's Senior Vice President of Information Services said this year's award nominees were of exceptionally high quality. In northeast Oklahoma, this program jumped into online programming, with an e-Learning certificate program targeted to 25,000 healthcare administrators and physicians in Nigeria and Kenya. The online certificate program consists of four, eight-week classes, complete with content that is relevant to international markets. "What won the award was the identification of the need for an audience half a world away and then reaching this new market and demand," said Coates."
"I really enjoyed and learned from this online course. As a physician with interest in Public Health and Population Health Management, I found this program to be extremely relevant and useful. The course is well structured and the knowledge and experience of the facilitators is outstanding. I now feel empowered to tackle the epidemic of chronic conditions in the Cayman Islands (especially childhood obesity). I will undoubtedly recommend the course to other colleagues."
— Dr. Samuel Williams-Rodriguez, MD / GP, MPH, Head of Primary Care, Health Services Authority, Cayman Islands, Caribbean Region
"I enjoyed the materials, the professors, and the opportunity to meet and engage with experienced business and healthcare professionals from all over the world. The course exceeded my expectations by giving novel insights into predictive modeling for population management."
— Chris Ekrem, FACHE, Associate Administrator
, Northw