PGA offers this 12-week professional course on governance innovations and practices to make participants equipped with the cutting-edge processes of governance innovation and learning. Innovation is reshaping the culture of governance in this present age of competency and service legacy. Governance innovations and good practices are considered as important underlying factors for economic growth and enhance service delivery of state. Innovation in governance is important due to its strategic significance and globalized competition, which has escalated the demand for better change and adoption of best practices through change in governance processes. In order to improve efficiency, effectiveness and quality of services, the public and private sectors implement new processes, products, services and methods of delivery. This course expects stirring the learners to adopt the sophisticated tools of governance innovation and best practices.  
GovInn is a professional course intended to generate new thinking about governance innovation. It focuses on cutting-edge issues of governance service delivery methods.
Key areas to be covered:
Innovation Governance: A Best Practice for Overcoming Implementation Deficits.
Change, Innovation and Transformation in Governance Practices.
Innovation Management in Service Industries.
Innovation Management in the Corporate Governance Environment.
Innovation Management in Public Sector Service Delivery.
Making Governance into Opportunities: Customer Service, Automation and Proactive Policies.
Governance Innovation and the Citizen: Face of Governance-Beyond-State.
Project Innovation.
Three Case Studies of Governance Innovation and Best Practices.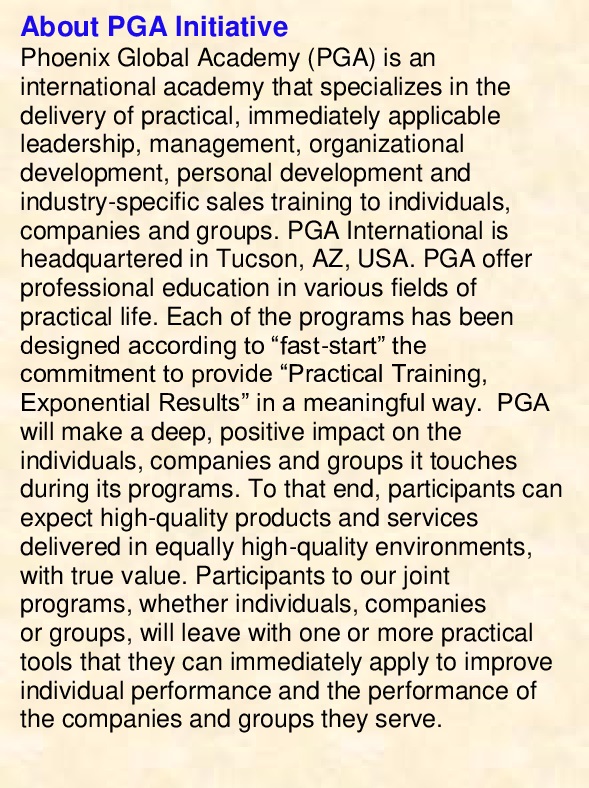 This course is designed for people who are professionally active in different private and public sector organizations or preparing for transition into leadership and management role in corporate organizations. The themes in this professional program give consideration to knowledge and learning that assist you in preparation for best practices in governance domain.
At the end of this course we expect it to help participants and practitioners structure their efforts to improve efficiency, effectiveness and quality of services implementing processes, products, services and methods of delivery.
A study pack will be available at the day of orientation of the course. We strongly advice participants to collect this study pack from the secretariat. It contains all the necessary chapters, articles and guidelines relevant to each session. 
Credential:         Advanced Certificate in Governance and Innovation Practices (GovInn)
Length:                12-Week, 36 Credit Hours
Study Options:   Professional education
Study Mode:        On Campus
Start:                      Spring 2020 [April-June 2020]
Fees:                       US$ 200/ Taka 17000
Registration Deadline: 25th March 2020
This course consists of 12 sessions, one per week for a period of one and half hours on campus teaching, plus 1.5 hours of independent reading between sessions for a total of approximately 36 contact hours.
PGA has affiliated panel of experts from renowned universities and academies in home and abroad. A pool of experts from North Eastern State University (NSU), USA, Dhaka University is the major strength of PGA Initiatives in Bangladesh. All programs under the PGA framework are academically monitored and proctored by Dr. Ed L. Hansen, the PGA Head, Dr. Eloy A. Chavez, EdD, Dean, NSU, Dr. Mark Tozzio, M-IHHS, FACHE, Northeastern State University (NSU), USA, Dr. Delwar Hossain, Professor in Dhaka University, Musharrof Hossain, HR Expert and President of the Asia-Pacific Forum of Human Resource Management (APFHRM) and Shohrab Hossain, Management & HR expert, PGA International Coordinator, Canada.  
Certification of the Program
This international certificate program is designed and certified by the Academic Board of Phoenix Global Academy (PGA), USA. The seminars and the course work will require a commitment of three hours week from the participants. For the satisfactory completion of this course, PGA will award a certificate for participants.