Each year, a World Economic Forum is held in Davos, Switzerland. In 2020 the theme of the Forum, which attracts the most significant world leaders in business and industry, is Mastering the Fourth Industrial Revolution.  This theme was selected many in the "Global-Know" believe the 21st Century begins a new era for global business and industry. This era's signature characteristic according to Professor Klaus Schwab, founder of the Forum, is Speed.  Change and innovation will occur with blinding speed. Leaders and managers must be a new breed. They must exhibit characteristics and expertise conducive to leading and managing rapid change with and through people (Millennials and Digital Natives) who have a very different attitude toward work, their roles and their orientation to authority. To this end, PGA proposes 19-week course designed to provide established and emerging leaders and managers the tools they will need to survive and thrive in the New Era of the global Fourth Industrial Revolution. The course is designed by Dr. Ed L. Hansen. Dr. Hansen. He will be academically monitoring and proctoring this course.
LeadM is a professional course intended to generate new thinking about leading and managing in the Era of Global Fourth Industrial Revolution in the 21st Century.
Key areas to be covered:
The 21st Century- Why it is different and What every Leader and Manager have to understand about it?
Essential Traits and Characteristics of the 21st Century Leader and Manager.
The Inquiry Question Set: Asking the right questions in the right way matters for 21st Century Leader and Manger.
Tribal Leadership- Why every 21st Century Organization is or will become "Tribe of Tribes".
Systems-Thinking and the 21st Century Learning Organization.
Core Management Systems in the 21st Century Learning Organizations.
Management by Metrics: You can't Manage what you can't Measure.
Emotional Intelligence 2.0.
Networking and Collaborating.
Leading Managing with Resiliency and Agility.
Leaders and Managers must do Hard Work of Delegation.
Essentials of 21st Century Management-PODC 3 and CMS Pyramid.
Strategic Conversation-Planning the Game.
End of Module Seminar.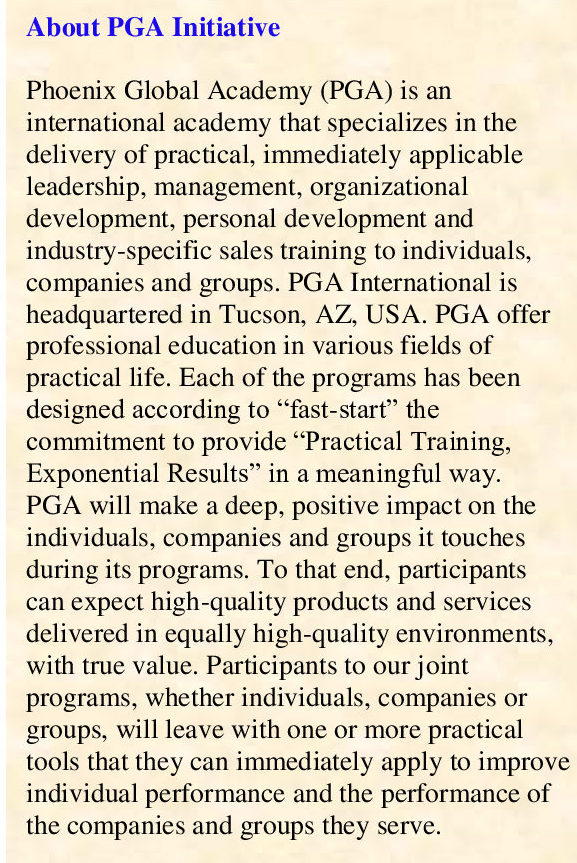 This course is intended for participants who are professionally active or interested in managing and leading organizations. Participants should have leadership interest or aspire to a career in the public action domain, whether within government institutions (including public research institutions), donor agencies (including international NGOs, bilateral and multilateral donors) or civil society (including research institutes, universities).
At the end of this course we expect it to help participants and practitioners structure their efforts in leading and management in the New Era of the global Fourth Industrial Revolution.
A study pack will be available at the day of orientation of the course. We strongly advice participants to collect this study pack from the secretariat. It contains all the necessary chapters, articles and guidelines relevant to each session. 
Credential:            Leadership: Leading and Managing in the21st Century (Leadm)
Length:                   19-Week, 60 Credit Hours
Study Options:    Professional education
Study Mode:         On Campus
Start :                     Spring 2020 [April-July 2020]
Fees:                      US$ 300/ Taka 25000
Registration Deadline:  25th March 2020
This course consists of 19 sessions, one per week for a period of one and half hours on campus teaching, plus 1.5 hours of independent reading between sessions for a total of approximately 60 contact hours. For the satisfactory completion of this course, PGA will award a certificate for participants.
PGA has affiliated panel of experts from renowned universities and academies in home and abroad. A pool of experts from North Eastern State University (NSU), USA, Dhaka University is the major strength of PGA Initiatives in Bangladesh. All programs under the PGA framework are academically monitored and proctored by Dr. Ed L. Hansen, the PGA Head, Dr. Eloy A. Chavez, EdD, Dean, NSU, Dr. Mark Tozzio, M-IHHS, FACHE, Northeastern State University (NSU), USA, Dr. Delwar Hossain, Professor in Dhaka University, Musharrof Hossain, HR Expert and President of the Asia-Pacific Forum of Human Resource Management (APFHRM) and Shohrab Hossain, Management & HR expert, PGA International Coordinator, Canada.
Certification of the program
This international certificate program is designed and certified by the Academic Board of Phoenix Global Academy (PGA), USA. The seminars and the course work will require a commitment of three hours week from the participants. For the satisfactory completion of this course, PGA will award a certificate for participants.